Product information
Our US made (Hook International) strap hoists are designe for all facets of OH line works. These durable, lightweight hoists have been engineered for safe and easy operation.
Many models available (1,000 - 2,500lbs single line, 2,000 - 5,000lbs double line, with/without Hotstick attachments)
Features
Reversible fibreglass handle for additional safety when working on live conductors

Meets ANSI standard B-30.21

Heavy duty 360 degree drop forged swivelling hooks with safety latch

Hotstick models available

​These incl. rings on handles, hooks and control leavers
Product reviews
We don't have any reviews for this product yet.
Have you purchased Ratchet Strap Hoists from us? Let others know about your experience.
Similiar products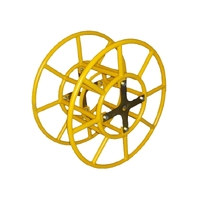 TEMA
POA