Fast Aid
Motorist First Aid Kit Soft Pack
ARTG Registered (no. 128314)
Product information
PRODUCT SPECS
You never know when you might need a First Aid Kit, have one handy in every vehicle or toolbox.
With a compact case it can fit into most vehicles gloves boxes, under seats, in boot compartments and toolboxes.
Contents are easily organisation with practical internal compartments.
Dimensions: 180 (W) X 120 (H) X 80 (D)

KIT CONTENTS
20 X ADHESIVE STRIPS, PLASTIC, 72 X 19MM
20 X ADHESIVE STRIPS, PLASTIC, ASSORTED
2 X ALCOHOL WIPE, SACHET
1 X CONFORMING BANDAGE, 5CM, WHITE
100 X COTTON TIPS, DOUBLE ENDED, 7.5CM
1 X DISPOSABLE GLOVES, LARGE, PAIR
1 X EMERGENCY FIRST AID INFORMATION BOOKLET, BASIC, DL SIZE
1 X EMERGENCY SHOCK BLANKET, SILVER SPACE
1 X EYE PAD, STERILE
1 X EYE WASH SOLUTION, 30ML AMPOULE
1 X NON-ADHERENT DRESSING, 10 X 7.5CM, STERILE
1 X PAPER TAPE, 1.25CM X 9M, HYPO-ALLERGENIC, WHITE
2 X POVIDONE IODINE SWABS
1 X RESUSCITATION FACE SHIELD, DISPOSABLE WITH NON-RETURN VALVE
12 X SAFETY PINS, ASSORTED
1 X SCISSORS, STEEL, 9CM
1 X SPLINTER FORCEPS, STEEL, 9CM
5 X SPLINTER PROBE, DISPOSABLE
1 X TRIANGULAR BANDAGE, DISPOSABLE, LARGE, WHITE
2 X WOUND CLEANSING WIPE, NON-STING, SACHET
Product reviews
We don't have any reviews for this product yet.
Have you purchased Motorist First Aid Kit Soft Pack from us? Let others know about your experience.
Similiar products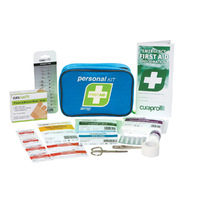 Fast Aid
Personal First Aid Kit Soft Pack
$31.25