Fast Aid
Personal First Aid Kit Soft Pack
ARTG Registered (no. 128314)
Product information
PRODUCT SPECS
This personal First Aid Kit is equipped to treat minor injuries which need minor first aid treatment.
The compact design is ideal for the home, a handbag or backpack or where a budget protective case is required.
The internal compartments help to keep contents orgainised and easy to find.
Dimensions: 180 (W) X 120 (H) X 70 (D)
KIT CONTENTS
25 X ADHESIVE STRIPS, PLASTIC, 72 X 19MM, 25PK
2 X ALCOHOL WIPE, SACHET
2 X WOUND CLEANSING WIPE, NON-STING, SACHET
1 X NON-ADHERENT DRESSING, 10 X 7.5CM, STERILE
1 X CONFORMING BANDAGE, 5CM, WHITE
1 X DISPOSABLE GLOVES, 2PK
1 X EMERGENCY FIRST AID INFORMATION BOOKLET, BASIC, DL SIZE
1 X EYE PAD, STERILE
1 X SPLINTER FORCEPS, STEEL, 8CM
1 X PAPER TAPE, 1.25CM X 5M, HYPO-ALLERGENIC, WHITE
2 X POVIDONE IODINE SWABS
12 X SAFETY PINS, ASSORTED, 12PK
1 X SCISSORS, STEEL, 9CM
5 X SPLINTER PROBE, DISPOSABLE
1 X TRIANGULAR BANDAGE, DISPOSABLE, LARGE, WHITE
Product reviews
We don't have any reviews for this product yet.
Have you purchased Personal First Aid Kit Soft Pack from us? Let others know about your experience.
Similiar products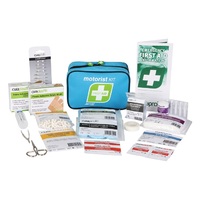 Fast Aid
Motorist First Aid Kit Soft Pack
$45.50