Battery Powered Cable Cutter
Product information
Our redesigned Li-ion battery powered cable cutter has been manufactured to take out the hard work of cutting OH conductors and UG cables. Running on the Makita battery platform, these cutters are a perfect addition to any work crew's tool list.
Features
New and improved direction change switch

Runs on Makita battery platform

Suitable for Cu and Al. cables up to 500m2

Max OD of 54mm

2.7kg (skin only)

320 x 110 x 160mm in size

Can be supplied as a skin only (with or without case) or in a full kit (with batteries and charger)
Please note, this is not suitable for cutting ASCR
Product reviews
We don't have any reviews for this product yet.
Have you purchased Battery Powered Cable Cutter from us? Let others know about your experience.
Similiar products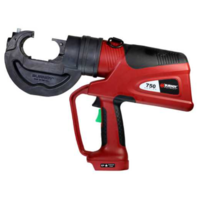 Burndy
Burndy PATRIOT 12T Battery Powered Crimper
POA