Austlift
Premium Roofer's Kit
Complete Kits in Convenient Backpack
Product information
Introducing our Premium Roofer's Kit: Safety and Convenience in one Backpack!
When it comes to working on a roof or at any height, safety is non-negotiable. The perfect solution for roofers who prioritize their well-being while on the job. Our Roofer's Kit is a comprehensive safety package that includes everything you need for a secure and worry-free roofing experience. Invest in your safety and elevate your roofing experience.
Features
Backpack for storage of equipment
PRIME riggers harness
CORE 15kN edge anchor
Fall arrester kit:

12mm dia. kernmantle rope x 25m
Triple action karabiner
Rope grab
Shock pack with screw turn locking karabiner

Height safety anchor sling
Versatile for Any Roofing Application:
Whether you're working on residential rooftops, commercial projects, or anything in between, our Roofer's Kit is designed to meet the demands of various roofing applications. Stay protected no matter the job, and experience the freedom to focus on your craft without compromising safety.
Product reviews
We don't have any reviews for this product yet.
Have you purchased Premium Roofer's Kit from us? Let others know about your experience.
Similiar products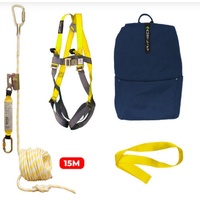 Austlift
POA