Fast Aid
R2 Electrical Workers Kit
Compliant to WHS 2016 for Workplace
Product information
PRODUCT SPECS
Complies with WHS 2019 Regulations for Workplaces.
Specially designed for electrical workers with specific contents to assist with attending to injuries sustained in this electrical industry.
Conforms to most standards required by Energy providers.

BONUS Wall mount Bracket

KIT CONTENTS
50 X ADHESIVE STRIPS, PLASTIC, 72 X 19MM, 50PK
4 X ALCOHOL WIPE, SACHET
1 X ANTISEPTIC LIQUID/STING RELIEF, 50ML, SPRAY BOTTLE
10 X WOUND CLEANSING WIPE, NON-STING, SACHET
1 X BOWL GALIPOT 60ML CLEAR
5 X HYDROGEL BURNS GEL, 3.5G SACHET
1 X COLD PACK, INSTANT, LARGE
1 X COMBINE DRESSING, 10 X 20CM, STERILE
3 X CONFORMING BANDAGE, 5CM, WHITE
3 X CONFORMING BANDAGE, 7.5CM, WHITE
100 X COTTON TIPS, DOUBLE ENDED, 7.5CM, 100PK
1 X RESUSCITATION FACE SHIELD, DISPOSABLE WITH NON-RETURN VALVE
1 X LEAFLET, CPR/EAR.WALLET SIZE
1 X CREPE BANDAGE, HEAVY WEIGHT, 10CM, BROWN
5 X DISPOSABLE GLOVES, 2PK
1 X EMERGENCY FIRST AID INFORMATION BOOKLET, BASIC, DL SIZE
1 X EMERGENCY SHOCK BLANKET, SILVER SPACE
4 X EYE PAD, STERILE
8 X EYE WASH SOLUTION, 30ML AMPOULE
1 X FIRST AID MODULE, BURN, SOFT PACK (20 PIECES)
1 X FIRST AID MODULE, OUTDOOR, SOFT PACK (7 PIECES)
5 X GAUZE SWAB, 7.5 X 7.5CM, 5PK
1 X KIDNEY TRAY, PLASTIC,200ML GREEN
1 X NON-ADHERENT DRESSING, 10 X 10CM, STERILE
3 X NON-ADHERENT DRESSING, 10 X 7.5CM, STERILE
6 X NON-ADHERENT DRESSING, 5 X 5CM, STERILE
1 X ACCIDENT REPORT NOTEBOOK WITH PENCIL
1 X PAPER TAPE, 2.5CM X 5M, HYPO-ALLERGENIC, WHITE
1 X PLASTIC BAG, RESEALABLE, LARGE, 305 X 230MM
1 X PLASTIC BAG, RESEALABLE, MEDIUM, 230 X 150MM
1 X PLASTIC BAG, RESEALABLE, SMALL, 125 X 100MM
6 X POVIDONE IODINE SWABS
12 X SAFETY PINS, ASSORTED, 12PK
1 X SCISSORS, STAINLESS STEEL, 12.5CM
1 X SHARPS CONTAINER, PLASTIC, 100 ML, YELLOW
1 X SHEARS, UNIVERSAL 8", STAINLESS STEEL BLADES
1 X SPLINTER FORCEPS, STAINLESS STEEL, 12.5CM
10 X SPLINTER PROBE, DISPOSABLE
2 X TRIANGULAR BANDAGE, COTTON, LARGE, WHITE
5 X WOUND CLOSURE STRIPS, 3 X 75MM, 5PK
1 X WOUND DRESSING, NO.13, STERILE
1 X WOUND DRESSING, NO.14, STERILE
1 X WOUND DRESSING, NO.15, STERILE
STANDARDS & COMPLIANCE
This first aid kit complies with WHS 2019 Regulations for Workplaces in Australia and New Zealand. This kit is also ARTG Registered (no. 128314) and exceeds Australian Standard AS2675-1983 (Size B).
All FastAid products are manufactured and distributed in accordance with FastAid's stringent quality assurance procedures.
Product reviews
We don't have any reviews for this product yet.
Have you purchased R2 Electrical Workers Kit - Soft Pack from us? Let others know about your experience.
Similiar products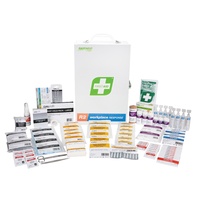 Fast Aid
From $111.32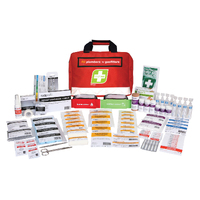 Fast Aid
$192.28