TEMA
TEMA OPGW Pulling Robot
Remote Controlled Unit
Product information
Our remote controlled OPGW pulling robot allows for safe and reliable installation/replacement of OPGW in live conditions. Manufactured in Italy, the robot's lightweight aluminium alloy frame and it's special counter-weight design ensures the unit maintains an upright position.
Features
Mechanical braking device to prevent uncontrolled roll back

Suitable for use on conductors from 12 - 36mm and able to travel over mid-span joints up to 44mm (hex section)

Includes lifting and towing attachments

Pulling capacity of 150kg

Pulling/Reverse speed of 20m/sec

IP67 wireless radio control unit

Available in both petrol and battery powered versions
Product reviews
We don't have any reviews for this product yet.
Have you purchased TEMA OPGW Pulling Robot from us? Let others know about your experience.
Similiar products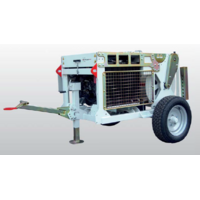 TEMA
TEMA Hydraulic Front Drum Winches
POA