TEMA
TEMA Hydraulic Front Drum Winches
For Conductor Sagging and Tower Erection
Product information
TEMA Italy's range of Hydraulic Winches are engineered and manufactured to withstand the harshest climates all around the world. With experience in the ice cold climates of Russia, the extreme heat in the Middle East and high humidity in the Amazon, these TEMA winches are easy to use and maintain as most components used in manufacturing have alternatives available locally and the electric control system does away with PCB's in favour of relays and contactors ensuring a greater reliability in all climates.
For use when conductor sagging, tower erecting, light conductor stringing and/or UG cable installation. Available in 35kN (109T3) and 55kN (109T5) versions* with a slew of options including a Wired Remote Control, Wireless Remote Control and/or a Road Trailer Kit.
Features
1 hydraulic circuit with negative brake system

1 dynamometer for direct reading of pulling value with load-limiter device

Independent mechanical stabilizers (front and rear)

Rigid axle with tyres for towing up to 30 km/h

Balanced top lifting point and anchoring attachementsarks of 10 mm, 20 mm & 30 mm make adjusting cut lengths easy.
*Available in smaller 10kN and 20kN ratings in trailer and non-trailer mounted versions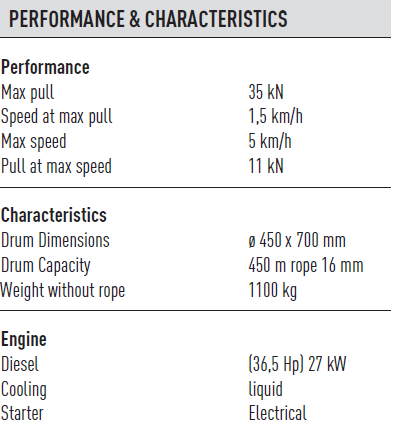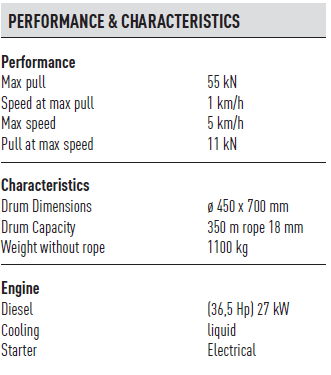 Product reviews
We don't have any reviews for this product yet.
Have you purchased TEMA Hydraulic Front Drum Winches from us? Let others know about your experience.