Sofamel
MV Distribution Portable Earthing Devices [SCREW TYPE]
IEC61230 Compliant PEDs
Product information
Our portable earthing devices (PEDs) are designed and assembled to maintain operator's protection against an accidental commissioning or possible voltage return during construction/repair operations and in accordance to the IEC 61230 standard. The sets as shown are an example only as these can be customised to meet your exact requirements. Please fill out the attached form and contact us to discuss how we can meet your needs.
The Screw On (MPU) clamp is fixed on bare conductors by screw tightenening by either a fixed or removable insulated stick.
*Multiple clamp spindle attachments are available including Bayonet, Hex, Shotgun/Gripall Ring*
Features
3 MPU aluminium alloy clamps with screw tightening via a Bayonet (MPUB) or hexagonal (MPU/H) spindle for circular conductors with a diameter between 4 and 30mm, flat bar at a max width of 45mm, angled bar at a max width of 45mm and ball points/pins between 20 and 25 mm

3 copper cables with PVC insulation of 25/35/50 mm2 section (depending on model) and 0.75m long

1 copper cable with PVC insulation of 25/35/50 mm2 section (depending onmodel) and 2m long

1 insulated trifurcating connector

1 TT-38A milling earthing clamp

1 1.5 m telescopic pole with three sections

1 plastic case to store and transport the equipment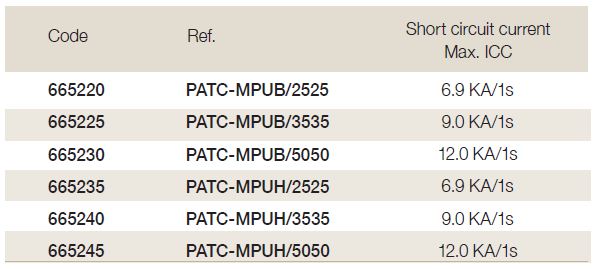 Product reviews
We don't have any reviews for this product yet.
Have you purchased MV Substation Portable Earthing Devices [SCREW TYPE] from us? Let others know about your experience.
People who purchased this also liked Similiar products