Maxisafe
E-MAN 4000 Retractable Clear Visor Helmet
The helmet is equipped with a fully retractable visor providing protection for the entire face and has been developed according to state of the art science of crumple zones in modern vehicle design.
Product information
E-MAN is introducing the CRASH BOX especially designed for partial or total destruction depending on the impact intensity. By destroying the CRASH BOX a certain amount of the impact energy will be taken over by the helmet shell while the rest of the impact energy is being forwarded to the suspension and from there to the head of the user. The functionality of the CRASH BOX is comparable to the crumple zones on contemporary cars.
FEATURES AND BENEFITS
The visor protects the whole face and can be completely pushed up between the helmet shells if not used.
Electric arc according to GS-ET29 Class 1 + 2 4000 Amps for 0.5 seconds.
State of the art crumple zones similar to modern day cars
By compressing and destroying of the Crash Box, the E-MAN is capable to absorb far more impact energy than any single wall helmet and therefore provides additional protection to the user.
E-MAN has been tested and certified according to EN 397 (Safety Helmets) and EN 50365 (Electricians Helmets). VDE approved.
6 point ratchet system harness
Tested and certified* according to additional requirements for testing and certification of face shields for electricians according to GS-ET-29 BG Prüfzert
Red Dot Design Award Winner 2009
Product reviews
We don't have any reviews for this product yet.
Have you purchased E-MAN 4000 Retractable Clear Visor Helmet from us? Let others know about your experience.
Similiar products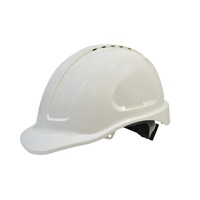 Maxisafe
Vented Hard Hat with Ratchet Harness
From $13.50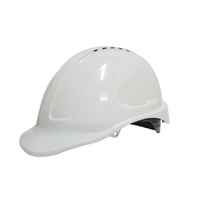 Maxisafe
Vented Hard Hat with Sliplock Harness
From $12.50