HeartSine
Defibrillator (AED) HeartSine 360p Bundle
Product information
The HeartSine 360p Automatic Defibrillator Bundle comes with everything you need for your organisation.
HeartSine 360p Bundle includes:
1 x HeartSine 360P Defibrillator
1 x soft shell carry case
1 x AED Patient Prep Kit includes: Razor, CPR mask, gloves, sheers, and skin wipes
Monthly Defib checklist
3 x AED signs
1 x Online Training Video
8 Years Warranty
8 Years customer support team
About the HeartSine® 360P Defibrillator: Specially designed for use in all conditions, it is a sophisticated, lightweight and fully automatic defibrillator for the first responder. The HeartSine® 360P AED has the highest weather rating in Australia, with an IP rating of 56 (Ingress Protection rating), this means the 360p can handle direct contact with water, dust and is ideal for Australian indoor and outdoor conditions.
HeartSine Easy and Safe: The HeartSine® design is easy-to-operate with clear voice and visual prompts, helping the user through pad placement and CPR in an emergency.
This AED is designed to analyse the patient's heart rhythm and determine whether an electrical shock is needed. In the event a shock is necessary, the AED will determine how much to shock and deliver the shock Automatically. Its advanced technology is balanced against the demands of real-world use.
Low on going cost: Replacing the pads and battery is easy with 1 simple Padpack with a 3-4 year expiry date.
Product reviews
We don't have any reviews for this product yet.
Have you purchased Defibrillator (AED) HeartSine 360p Bundle from us? Let others know about your experience.
Similiar products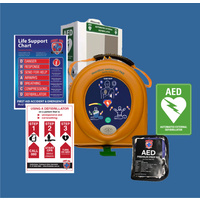 HeartSine
Defibrillator (AED) HeartSine 500p Bundle
From $2,860.00