HeartSine
Defibrillator (AED) HeartSine 500p Bundle
Product information
HeartSine 500p Smart Defibrillator Bundle

This HeartSine 500p defibrillator is ideal for trained and untrained responders, it will IMPROVE YOUR CPR by telling you if the CPR is to slow or fast and not hard enough. Real time feedback, better blood flow to the brain, means better survival outcomes.
Defibrillator Bundle Includes:
1 x PAD 500P Defibrillator
1 x AED Patient Prep Kit includes: razor, CPR mask, gloves and sheers
1 x AED Vehicle Sticker
Free online training video
8 Years Warranty and after sales service
HeartSine Tough and Compact: This Defibrillator is the most durable in Australia, with an IP rating (ingress protection) of 56, this means it can handle direct jets of water, outdoor environments and all weather situations.
Real Time Feedback: The HeartSine 500p defibrillator improves CPR quality by giving the rescuer real time feedback about the quality of CPR, making this defibrillator a SMART choice in any situation. Its all about better survival outcomes.
Specially designed for use in all conditions, the HeartSine® Samaritan® PAD 500P Defibrillator is a sophisticated, lightweight at 1.1kg and Semi Automatic – allowing the rescuer to deliver a shock through the shock button quickly. The HeartSine® design is easy-to-operate with clear voice and visual prompts, helping the user through pad placement and CPR in an emergency.
Low ongoing cost: All with a low ongoing cost, the pad and battery last for 3-4 years and only cost $200 to replace.
Product reviews
We don't have any reviews for this product yet.
Have you purchased Defibrillator (AED) HeartSine 500p Bundle from us? Let others know about your experience.
Similiar products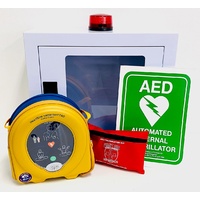 HeartSine
Defibrillator (AED) HeartSine 360p Bundle
From $2,860.00