Austlift
Sharp Edge Resistant Inertia Reels
Premium Inertia Reels
Product information
Casing made of high impact strength polymer to prevent breakage and is nearly indestructible. Comes in galvanized steel wire rope of diameter 4.5mm. Swivel triple action locking snap hook with fall indicator at the bottom and triple action Karabiner on top. Anchorage eye with swivel action. Prevents undue twist of rope while working or in the event of a fall.
Features
Rope Option: 4.5mm dia. Steel (10m version)

Webbing Option: 25mm wide Polyester (2m versions)

Minimum breaking strength: 12kN

Rated for 140kg

The steel triple-action locking swivel hook: 21mm gate opening, 23kN minimum breaking strength

The steel triple-action locking karabiner: 22mm gate opening, 25kN minimum breaking strength

Conformity: EN 360:2002 & ASNZS 1891.3
Product reviews
We don't have any reviews for this product yet.
Have you purchased Sharp Edge Resistant Inertia Reels from us? Let others know about your experience.
Similiar products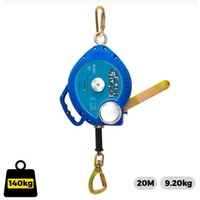 Austlift
POA