Brady
Personal CB Lockout Tagout Kit [PADLOCK TYPE: Keyed Separate]
Product information
Brady Corp are some of the best in the biz when it comes to lockout and tagout kits, hence why we have chosen them as one of our partners. The personal CB Lockout kit is a versatile option for all electrical trades.
*We have access to the whole Brady Corp range of products. If something isn't listed on our site that is of interest, please contact us to arrange a price*
Features
3 x Padlocks (keyed seperately but also available keyed alike)

3 x DNOB's

3 x Padlock Clasps

2 each of Brady's popular CB covers (6 in total)

Heavy Duty Carry Case
Product reviews
We don't have any reviews for this product yet.
Have you purchased Personal CB Lockout Tagout Kit from us? Let others know about your experience.
Similiar products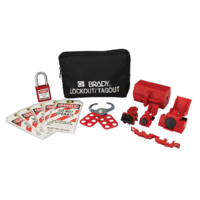 Brady
Electrician's Mini Lockout Kit
$242.30