Jaedon
FIRE RETARDANT WET WEATHER BIB OVER TROUSERS
Anti-Static lightweight breathable waterproof fabric
Product information
Features
This is a Multisafe Product; it has Electrical Arc Protection and Fire Retardant Properties
Breathable lightweight material
Pocket on front chest
FR zip gussets in legs.
FR centre front zip.
Seam sealed for greater water protection.
Adjustable elastic/webbing braces for comfort

Garments comply with:
EN343.2003.+A1:2007 – Resistance to water penetration >13000 and water vapour resistance.
EN1149-5:2008 – Protective clothing electrostatic properties.
EN13034:2005.+A1:2009 – Protection against liquid chemicals.
EN14116:2008 – Protection against heat and flame.
Colour: Royal Blue
Sizes SM - 5XL
Product reviews
We don't have any reviews for this product yet.
Have you purchased FIRE RETARDANT WET WEATHER BIB OVER TROUSERS from us? Let others know about your experience.
Similiar products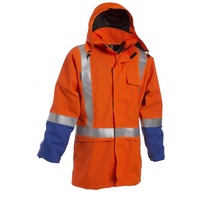 Jaedon
FIRE RETARDANT WET WEATHER JACKET
POA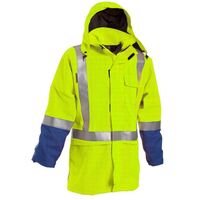 Jaedon
FIRE RETARDANT WET WEATHER JACKET
POA