NDB Technologies
DOC-3 Transformer Tester
3 Phase, Single Phase and SWER Testing Device
Product information
The NDB-DOC-3™ is a test instrument designed for distribution networks transformers from 1kVA to 3MVA. It can determine the presence of short circuits or open circuits in the distribution transformer primary winding & also short circuits on the secondary winding. The NDB-DOC-3™ is designed to be operated without disconnecting the transformer's secondary windings from their loads. The NDBDOC- 3™ allows the user to test all 3 phases simultaneously (saving time) and displays the diagnostic readings with a visual and audible signal. The NDBDOC- 3™ kit includes the test instrument, test leads with clamps and a transportation bag. Linemen crews are called on to re-energize transformers regularly, whether it's after storms or when line faults occur etc... The reasons for the outages are not always obvious, but the power needs to get back on. When damaged or connected to a faulty circuit, the transformers can rupture with massive amount of energy when attempting to re-energize. In order to make a better decision whether it is safe to re-energize the transformer or not the NDB-DOC-3™ is your friendly and safe choice!
Features
Suitable for 3 phase, single phase (and SWER) transformers

Transformer size supported: 1kVA to 3MVA

Operating temperature: -20°C to 50°C

Power supply: 4x AA batteries

Indications: Audible & visual

Autonomy: Up to 8 hours

Auto shut off: After 15min of inactivity

Go/No Go result

IP40
Product reviews
We don't have any reviews for this product yet.
Have you purchased DOC-3 Transformer Tester from us? Let others know about your experience.
Similiar products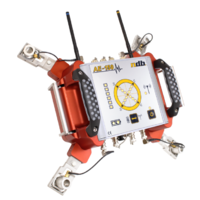 NDB Technologies
Transformer Partial Discharge Tester
POA