Brady
Valve Lockout Starter Kit
Ideal for securing pipe valves
Product information
Our range of lockout and tagout kits from Brady meet many standards and are used all over the world. This kit is ideal for securing pipe valves and includes an assortment of gate valve lockouts, small and large ball valve lockouts, padlocks, hasps and lockout tags.
*Many other variations can be found on the Brady Corp. website and are available upon request through Amplitude*
Product reviews
We don't have any reviews for this product yet.
Have you purchased Valve Lockout Starter Kit from us? Let others know about your experience.
Similiar products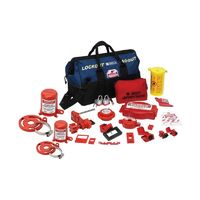 Brady Combination Lockout Duffel
$770.17