TEMA
Self Gripping Conductor Clamps (Come-a-longs) [SIZE: 8 - 24.5mm]
Product information
Our italian made grips are suitable for AC, AAC, ACSR and copper conductors. Made of hot forged, heat treated and cadmium plated high tensile alloy. Each model clamp is suitable for a wide range of conductors so a single clamp can be used across many projects by simply replacing it's liners.
A complete range of interchangeable liners (sold separately) allows the clamp to fit the exact conductor diameter.


Product reviews
We don't have any reviews for this product yet.
Have you purchased TEMA Self Gripping Conductor Clamps (Come-a-longs) from us? Let others know about your experience.
Similiar products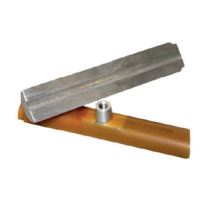 TEMA
POA