Product information
ITL's range of insulated tools are the hardest wearing tools on the market. Backed by a lifetime warranty, their tools are certified to IEC60900 and ASTM F1505. Manufactured by plastic injection moulding with a nylon thermoplastic material, they are flame retardant, withstand extreme impact and are 100% tested prior to dispatch from their factory in the UK.
Our customisable tool rolls are designed to offer quality and versatility in the field for when performing connections live or in the vicinity of live assets.
*Please contact us for the customisable options available*
Features
Dual IEC and ASTM certification

Flame retardant

Lifetime warranty

17 piece (shown) kit includes

​Durable PVC Tool roll

Ins. Open End Spanners (10, 13, 15, 17, 19, 21, 24mm)

Ins. 1/2" drive Reversible Socket Wrench

Ins 1/2" drive Extension Bars (125 and 250mm)

Ins. 1/2" drive Sockets (10, 13, 15, 17, 19, 21, 24mm)
Product reviews
We don't have any reviews for this product yet.
Have you purchased Insulated Tool Roll from us? Let others know about your experience.
Similiar products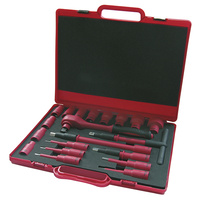 Haupa
1/2" Drive 20 piece Insulated Tool Kit
$546.00