Ritz
Insulated Telescopic Sticks [LENGTH: 1.48/3,82m]
Product information
The Ritzglas Triangular Telescopic Hot Sticks with height markings are designed to maintain a safe working distance and insulation level required to perform routine
jobs on the overhead electricity network. It's aluminium universal head accepts a wide range of attachments so that the stick can be used to measure conductor heights, disconnect switches, replace cutout fuses, change pole covers, prune trees and many other related tasks.
Manufactured with Epoxy –resin reinforced fibreglass poles, it fully complies with ASTM F 1826/99 & IEC 62193.3. The high visibility tip sections of VTT models, are manufactured with RITZGLAS® poles and have a polyurethane foam bonded core that ensures the full insulation, even when it is subject to the most rigorous conditions of humidity.
The triangular shape provides an automatic system to lock each section. No twisting
or turning to lock sections.
Features
Available in 8 different heights

ASTM and IEC certification

Comes with Switching Hook and Carry Bag

Replaceable sections available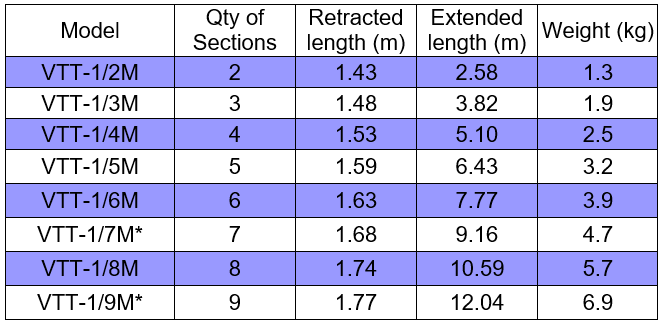 *denotes readily available and in stock*

Product reviews
We don't have any reviews for this product yet.
Have you purchased Insulated Telescopic Sticks from us? Let others know about your experience.
People who purchased this also liked