Product information
The Haupa "FIBRE" cable installation/pulling device is a compact, easy to use system for short and small sized cable runs.
Features
Fibreglass flexible rod at 3mm dia.
Available in 20m and 30m lengths
Easy reel rod retrieval system
Kits
143000 (20m) and 143002 (30m) include

2 x 143008 (Pulling Loops)
2 x 143016 (Front End Sleeves)
2 x 143018 (Connection Sleeve for Probes)
1 x 143012 (Guiding Head 7mm)
1 x 143014 (Guiding Head 10mm)
1 x 143020 (Cable Grip for 4-6mm dia.)
1 x 143026 (Quick Repair Glue)

143002/ECO

1 x 143008 (Pulling Loop)
Product reviews
We don't have any reviews for this product yet.
Have you purchased Cable Pulling Reel from us? Let others know about your experience.
Similiar products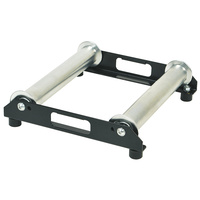 Haupa
POA