Major Tech
Digital Multimeter and Insulation Tester
Bluetooth True RMS IP65 Tester
Product information
Majortech's MT565 is a CAT IV 600V True RMS Multimeter and Digital insulation Tester. The MT565 measures AC/DC voltage, AC/DC current, resistance, capacitance, frequency, duty cycle and temperature. Along with this, it also performs insulation testing at ranges of 50V, 100V, 250V, 500V and 1000V and like it's higher voltage brothers (MT570 and MT575) it will automatically discharge the circuit after the test/s have been completed. The meter also includes Bluetooth communication along with an internal memory for storage and tranferring readings. Housed in a modern double moulded rubber housing with a rugged design and rated to IP65, the MT565 is perfect companion for new installation, trouble shooting and maintenance activities.
Features
CAT IV 600V

IP65

Intelligent 50 000 count LCD backlit display

5 insulation test ranges 50V, 100V, 250V, 500V, 1000V

Insulation Resistance up to 5GΩ

Measures AC and DC voltage up to 1000V

Measures AC and DC current up to 10A

Temperature measurement from -50⁰C to 1200⁰C

Capacitance to 10mF

Frequency to 10MHz

Dielectric Absorption Ratio (DAR)

Polarization Index (PI)

Low Pass Filter for measurement of variable frequency drive (VFD)

Peak Hold Function vor voltage and current measurements

Bluetooth transmission

App for data on both iOS and Android platforms

Powered by 6 x "AA" 1.5V Batteries

Weighs 700g
Product reviews
We don't have any reviews for this product yet.
Have you purchased Digital Multimeter and Insulation Tester from us? Let others know about your experience.
Similiar products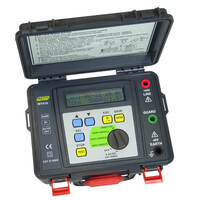 $1,754.50